E4 - Cultural Experience Kimchi Making
Tour Name :

E4 - Cultural Experience Kimchi Making

minimum Pax

: 3

Time Required :

09:00 ~ 13:00

Fee :

\96,000 per person

Course :

Hotel - Experience of Making Kimchi-get hanbok dress
Amethyst Factory or Ginseng Center - Hotel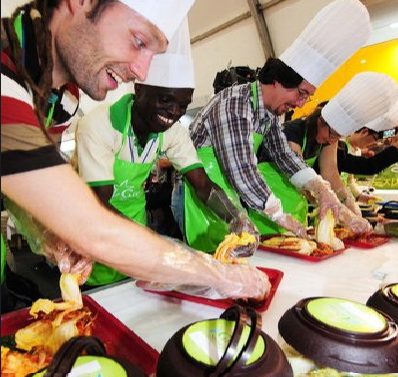 Making 'KIMCHI'

"Kimchi" is the best known Korean food. It is vegetable dish,
highly seasoned with pepper, garlic, etc. It is served with every
kind of Korean meal and it stimulates the appetite like pickles.
Large quantities of "kimchi" are usually made in late fall or early
winter for the wintertime. The making at this time is called
"kimchang".

Tour condition

- All the tours Include the guide, transportation, admission fee.
- If you cancell your reservation on tour day. We will charge
100% cancellation fee to you.
- Some morning tours will be dropped off at Itaewon or insadong.
- We notice that We have no responsiblity for your personal
incidents and losses during all the tours.
- We are stuck in a traffic jam the pick up service will be delayed